Meet Dr Sarah Wilkinson
Discovering a Passion for Preventative Health Care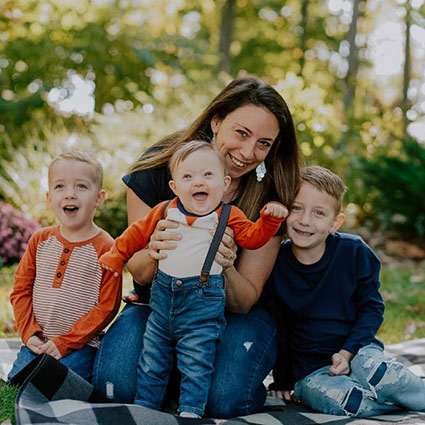 By the time she was in high school, Dr. Sarah had discovered her passion for helping animals. She began working at a local animal hospital from the time she was a senior in high school, working her way up from helping in the kennel to head technician. Veterinary school was her next step until she saw the impact that chiropractic could have on the lives of humans and animals alike.
"We focused more on preventative care, recommending raw food diets and using chiropractic care and acupuncture for dogs and cats. I saw a remarkable difference in their health and that of my own animals. I loved that natural care could help these animals in ways that conventional medicine often couldn't." She decided to focus more on neurology, nutrition and the spine and knew chiropractic school would give her the best education in these areas.
Experiencing a Life-changing Doctor Visit
Raised in Ypsilanti, Dr. Sarah attended Eastern Michigan University, graduating in 2006 with a Bachelor of Science in Biochemistry. In her senior year, however, she hit a roadblock that would change the way she practiced in the future.
"I was tired all the time and feeling severely fatigued. I went to my primary care physician, who told me I had depression. But I'd always been one of the happiest people I knew. I went to a chiropractor who did Nutrition Response Testing® and found out I had aluminum toxicity. With whole foods, supplements and dietary changes, I soon felt like I was 16 again!" She is still on this life-transforming nutritional program today and hasn't needed to go to the medical doctor since.
Learning to Help Humans & Animals
Next, it was time to begin an education in chiropractic at Life University in Marietta, Georgia. While in chiropractic college, Dr. Sarah discovered that she loved working with people, particularly kids and pregnant women.
"Educating people on how to care for themselves and their children, whether two-legged or four-legged, has become my passion. I love informing others about our bodies' natural abilities, and showing them that when given the right tools, our body can heal itself without needing medications and surgeries."
Outside the Office
When she isn't in the office, Dr. Sarah spends her spare time with family, including her two children, Rory (4) and Jaxon (1.) Rory was adjusted at four hours old and has been under Nutrition Response Testing since he was four days old. Her three dogs, Jasmine, Ralphie, and Bishop are on a healthy whole foods diet as well and regularly receive adjustments. "My quest toward natural living is a huge part of my life, and I'm excited to share it with others."
We welcome the opportunity to evaluate your health and help improve the way you live.
Contact us
today and schedule a convenient same-day or late appointment!
---
Dr Sarah Wilkinson | (734) 369-2032