Infrared Sauna at
Holistic Healing and Chiropractic Center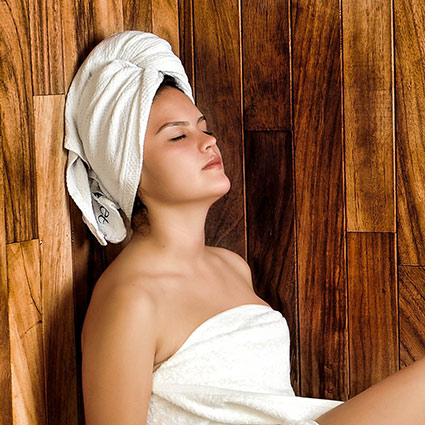 While we're told not to sweat the small stuff in life, some sweating is good for you, like sweating that results from a vigorous workout at the gym and sweating from time spent in an infrared sauna. At Holistic Healing and Chiropractic Center, we are pleased to now offer infrared sauna therapy to enhance health and wellness.
The infrared sauna is a room that can hold 1-3 people. "It heats up and sends out infrared waves, which are part of the electromagnetic spectrum, to help heal, detox, and promote overall health and wellness," said Dr. Wilkinson.
What Are Some Benefits?
Here are some of the primary health benefits of our infrared sauna:
Detoxes the body
Boosts the immune system
Rids the body of excess water weight
Improves skin
Enhances sleep
Relaxes the mind
How to Prepare & What to Expect
Getting Started: If you're not already a patient, you will first need to sign an initial consent form.
Dress for the occasion: Because the room heats up to 140 degrees, we recommend wearing lightweight clothing, such as a pair of shorts or tank top.
Have a seat and unwind: When it's time to start your session, open the door to the sauna room and have a seat. The room features an area where you can listen to music, an audible book or healing frequencies. We set the lights so you get different light frequencies (red light, green light, and blue light). Those will shine during your treatment. During your session, we invite you to close your eyes, relax, fall asleep if you'd like, or read a book.
Hydrate: As you'll be sweating (a lot!), plan to drink plenty of water while getting treated.
When Finished: When the alarm goes off, open the door and come out. That's all there is to it!
Frequently Asked Questions
We offer 30-60 minute sessions.
Yes! We have had independent VOC lab testing. You can be assured you are sitting in a completely non-toxic environment.
Does insurance cover the service?
No, however, we offer cash prices with package discounts for those who choose to buy them in bundles.
Book an Appointment
Experience the many health benefits of infrared sauna therapy. Contact us today to schedule an appointment!
---
Infrared Sauna Ann Arbor MI | (734) 369-2032